Paul Mooney death: Actor and comedy writing partner of Richard Pryor dies, aged 79
Comedian and actor Paul Mooney has died from a heart attack, aged 79.
The news was announced by TMZ to whom Mooney's family confirmed he died at his home in Oakland.
Paramedics were unsuccessful in their attempts to revive the comedian, who had reportedly been suffering from dementia over the past few years. 
Mooney is best known for his working relationship with Richard Pryor for whom he regularly wrote for in his career. Helping him secure the role of head writer of The Richard Pryor Show was his experience cracking jokes during his job as a ringmster with the Gatti-Charles Circus.
He also wrote some of Pryor's jokes during his regular appearances on Saturday Night Live.
> >
He is also known for playing singer Sam Cooke in The Buddy Holly Story (1978) and Junebug in Spike Lee film Bamboozled (2000).
He also made appearances on Chappelle's Show throughout its run, and was set to return before Dave Chapelle left the show because of stress.
In 2014, he was diagnosed with prostate cancer, but continued to perform standup routines on tour.
In 2019, Richard Pryor's ex-bodyguard alleged that Mooney had molested Pryor's son when he was a child.
In the same interview with Comedy Hype, he claimed that Pyror once expressed a wish to have Mooney killed in a murder-for-hire plot because of this alleged incident. Pryor's widow, Jennifer Lee Pryor, corroborated the claims.
Pryor Jr has since confirmed he was raped, but never mentioned Mooney by name.
Reference: Independent: Jacob Stolworthy  
Personality singer Lloyd Price dies at 88 from diabetes complications
Renowned rock 'n roll singer Lloyd Price has died at 88 from complications from diabetes, according to his wife Jacqueline Price.
Price told Billboard on Saturday that the singer behind hits such as Personality, Lawdy Miss Clawdy and Stagger Lee died at a New Rochelle, New York elder care facility on May 3.
'Lloyd's music crossed many boundaries and carried him to all corners of the world,' Price said. 'He got the nickname Mr. Personality because of his biggest hit but he also earned that name because he was charismatic, generous, smart, funny, talented with a very kind heart.
'I am so grateful for everyone who loves his music and have precious memories of his many songs. From the deepest part of me thank you, love to all.'
The Louisiana native in 1998 was inducted into the Rock and Roll Hall of Fame for his place in musical history, as he was one of the forerunners of the genre alongside greats such as Fats Domino and David Bartholomew.
Price had his first top R&B hit with the Lawdy Miss Clawdy, and hits in the subsequent top 10 R&B two years with Ain't It a Shame, Oooh-Oooh-Oooh and Tell Me Pretty Baby.
In 1957, Price was back on the charts with his song Just Because, and had the No. 1 R&B/pop hit Stagger Lee in 1958 and in 1959, the No. 2 hit Personality (from which he derived the moniker Mr. Personality) and I'm Gonna Get Married.
Other notable tracks he had in that time included Three Little Pigs, Misty and Lady Luck.
> >
Outside of his musical career, Price had a number of businesses including a Southern food line, construction in New York and a New York City club called Turntable.
Other honors Price received included the National Rhythm & Blues Hall of Fame in 2019, an induction into the Louisiana Music Hall of Fame in 2010, and the Rhythm and Blues Foundation's Pioneer Award in 1994.
Price's friend producer George Kerr told Billboard, 'Lloyd's legacy will live forever. I know Lloyd's fans all over the world are in mourning and so am I. Thank GOD there's no more pain. Lloyd RIP.'
Price is survived by wife Jackie, as well as three daughters and two sons.  
Reference: Dailymail.com Reporter  
Jimmy Rich death: Avengers stars lead tributes to Robert Downey Jr's 'right-hand man', who has died at 52
Stars from the Marvel Cinematic Universe have paid tribute to Robert Downey Jr's long-time "right-hand man" Jimmy Rich, who has died at the age of 52.
Rich had worked as the Iron Man star's personal assistant since 2003, and became close friends with many of the Avengers cast and crew and their families.
On his Instagram, Downey Jr said that Rich was killed in "a fatal car accident" on Wednesday (5 May), and credited him with supporting his sobriety.
"This is a terrible and shocking tragedy," the actor wrote. "He was a brother, my right hand man, an uncle to our kids and beloved by all who experienced his singular character and wit... our thoughts go to his relatives, friends, co-workers, and all the fans who knew him as the man who supported every step of my recovery, life and career."
A number of Downey Jr's Marvel co-stars also left tributes.
> >
Chris Evans posted a picture of himself on an Avengers set posing with Rich, and captioned it: "I don't have the words. Jimmy Rich was unlike anyone else. He left an indelible impression on everyone he met. No one more so than my brother @robertdowneyjr They were inseparable."
Evans continued: "I'm sending all my love to Jimmy's friends and family. Be sure to hug your loved ones tightly and please take the time today to show Downey how many people love him and are here for him during this incredibly dark time."
"Such a tragedy," wrote Mark Ruffalo in Downey Jr's Instagram comments. "Such a good man. I have known him almost as long as I have known you, Robert. Breaks my heart to have Jimmy go over to the other world. You will be missed Jimmy. Thanks for always being real, always being there to lend a hand and showing the way of light forward to so many people. Another sad day."
Gwyneth Paltrow commented "Please no oh my god", while Chris Hemsworth wrote that he was "heartbroken". Josh Brolin wrote that he has "no words, just tears and gratitude for the gift that was him", and Jeremy Renner called Rich's death "a devastating loss".
Chris Pratt added: "That sucks so bad. I'm so sorry to hear that. He was awesome. Such a tragedy."
Rich had worked with Downey Jr since the actor became sober in 2003 following years of drug addiction. Rich himself had battled addiction, writing in his Instagram bio that he had been "clean and sober" since December 1998. 
Reference: Independent: Adam White  
Zulu Queen: Mantfombi Dlamini-Zulu buried amid succession row
The Zulu Queen, Mantfombi Dlamini-Zulu, who died unexpectedly last week, has been buried in a private ceremony in South Africa's KwaZulu-Natal province.
She was appointed regent of the country's largest ethnic group in March following the death of her husband King Goodwill Zwelithini.
The queen's death, at 65, has triggered a bitter family feud and a power struggle over the succession.
The family has dismissed rumours that she had been poisoned.
But the cause of the queen's death is yet to be announced by the royal family.
Her eldest son Prince Misizulu, who is seen as the favourite to become the next king, has called for unity in a speech. 
"We have no doubt we will unite as a family. Let us emulate the king by being peaceful and continue to love all the queens," TimesLives quotes him as saying at his mother's memorial.
He also reflected on her qualities, adding "she was my strength, she was an extraordinary mother. She taught us love, respect and the value of hard work, the importance of honouring tradition".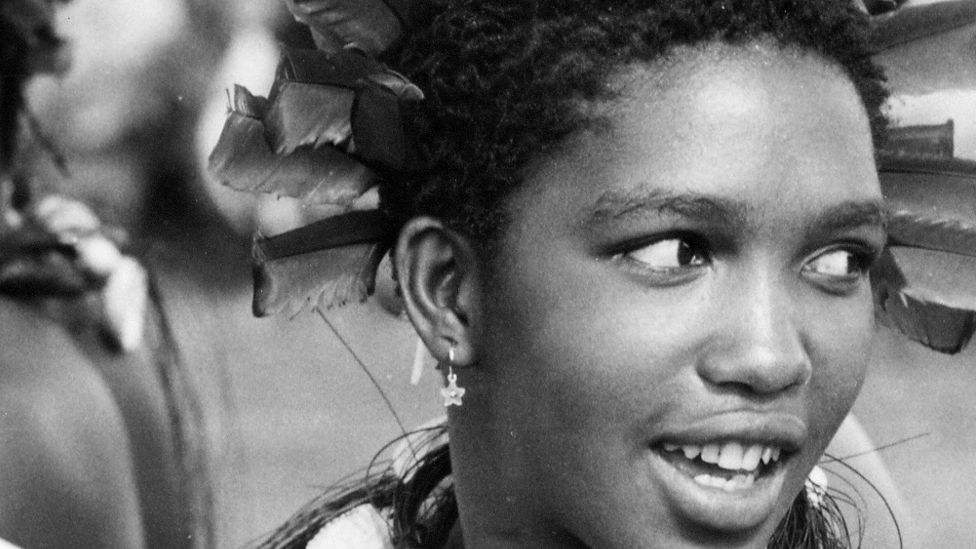 The decision on who will now lead the Zulu nation of about 11 million people is yet to be made.
The throne does not have formal political power and the monarch's role within broader South African society is largely ceremonial. But the Zulu monarchy remains hugely influential, and has a yearly taxpayer-funded budget of more than $4.9m (£3.5m).
Queen Dlamini-Zulu was buried at KwaKhangelamankengane Royal Palace in a town about 480km (300 miles) from South Africa's main city Johannesburg in the early hours of Friday morning after a night vigil.
The queen was the sister King Mswati III of neighbouring Eswatini and she was buried according to Swati royal culture, reports the BBC's Nomsa Maseko. 
Her body was wrapped in a cow's hide by a delegation that was sent by King Mswati and the funeral was attended by family members from both the Zulu and Eswatini monarchies.
A state-funded memorial has followed at the palace, with the Zulu and Swati royal families in attendance, as well as former South Africa President Jacob Zuma, who has always celebrated his Zulu identity, and other politicians.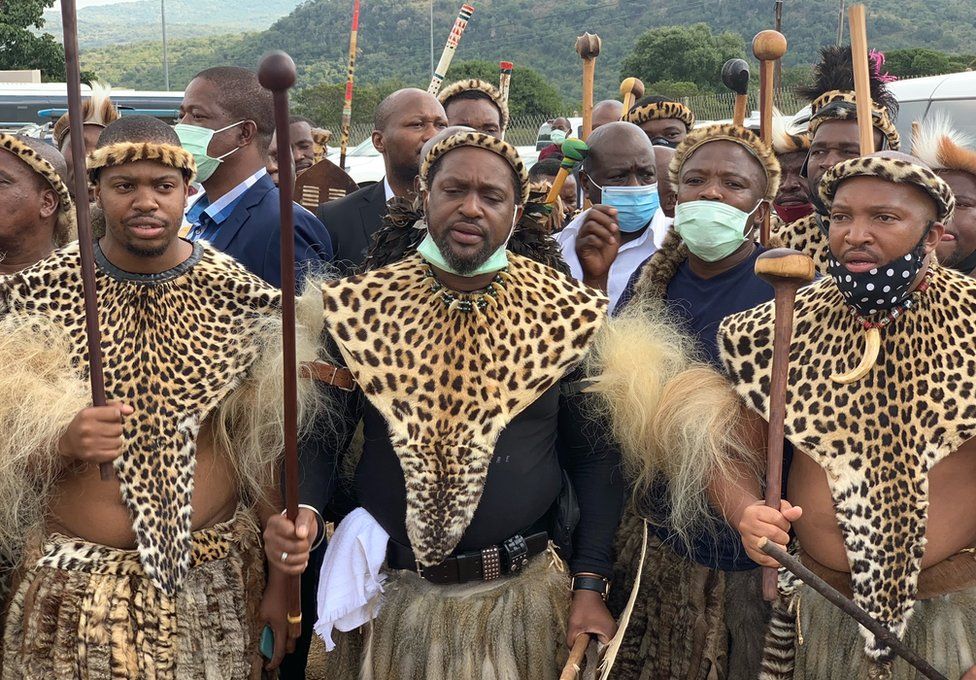 'A nostalgic and sombre mood'
Nomsa Maseko, BBC News, KwaKhangelamankengane Royal Palace
Queen Mantfombi Dlamini-Zulu was laid to rest in the thick of dawn at the royal palace.
Later, hundreds of people gathered for the memorial, including ordinary members of the public and Zulu maidens whom the late queen was in charge of.
There was a nostalgic but sombre mood as mourners spoke fondly about her. 
Prince Misizulu is seen as the favourite to be the next king. Significantly, he was flanked by ibutho, a Zulu regiment, in a show of force. This suggests they support him to take over from his late father.
Zulu princesses in attendance were draped in leopard hides, mostly over their shoulders. Princes wore leopard-skin tabards as well as "umqhele" - a headband also made from leopard hide.
> >
The royal delegation from Eswatini was also wearing their traditional attire.
Queen Dlamini-Zulu was named regent by her late husband, King Zwelithini, who died from diabetes-related complications at the age of 72 on 12 March.
The longest-reigning Zulu monarch, King Zwelithini had six wives and at least 26 children. But he picked Queen Dlamini-Zulu as his successor because she was the only wife with royal blood.
> >
Queen Dlamini-Zulu had eight children - including five sons - with the late king and one of them, Prince Misizulu, is seen as the favourite to become the next king.
A legal challenge has been launched by some members of the royal family who have questioned the authenticity of the king's will.
Over the next few weeks the royal family is expected to meet and then name a new leader.
Reference: BBC Africa News:  
Jane McDonald breaks silence following tragic death of her beloved partner Ed
Jane McDonald has taken to Instagram to share her heartbreak following the death of her long-term partner, Ed Rothe. 
The former Loose Women star reached out to her fans with a touching Instagram post, thanking them for their kindness.
She wrote: "I want to thank everyone most sincerely for the wonderful cards and messages of support that I have received since the awful news was announced that I had lost my beloved Ed. 
The former Loose Women star reached out to her fans with a touching Instagram post, thanking them for their kindness.
She wrote: "I want to thank everyone most sincerely for the wonderful cards and messages of support that I have received since the awful news was announced that I had lost my beloved Ed. 
"I'm so touched by each and every one. All the kind thoughts and words have meant so much to me and many of you have let me know that you are going through the same thing as me having lost loved ones and I wish you all love and strength back.
"I'm hugely grateful for everyone who very kindly donated to the Just Giving page for Wakefield Hospice in Ed's memory. It's been a tough time for us all recently and I know that better days are ahead."
Jane and Ed – a former member of The Searchers – started dating in 2008, some 20 years after they first met, and got engaged on Christmas Eve of that same year.
Announcing the news of her fiancé's death, a post on Jane's social media accounts read: "It is with immense sadness that we share the news that Jane's beloved life partner, Ed, passed away on Friday 26th March.
"He had been battling lung cancer for the last few months. We would like to thank everyone for all their help and support during this very difficult time, especially the NHS staff and the wonderful team at The Wakefield Hospice."
> >
Jane has been married twice before. She met her second husband, Henrik Brixen, while filming BBC show The Cruise, with Henrik working as a plumber on board the ship at the time.
The pair went on to marry in 1998, with their wedding featured in the fly-on-the-wall series. Henrik subsequently took over managing Jane's blossoming career – but after four years, decided to call time on the marriage amid concerns he would prevent Jane from being successful.
"Henrik tried his very, very best and he was brilliant at what he did, but he didn't know the industry," Jane revealed to the Mirror back in 2018.
"We'd come to a point where Henrik had made quite a few enemies and he said, 'If I don't leave you, you are never going to have a career.' And that is why I never talk about Henrik in a bad light at all because he was the one that walked out of the marriage to save my career." 
Login