Could vertical farms be the answer to ending soft fruit and herb imports to UK?
Two scientists, an agricultural economist and a farmer are on a mission to eliminate imports of soft fruits, herbs and salads to Britain within a decade.
The team at Jones Food Company already supplies nearly a third of the UK's fresh-cut basil to major retailers, grown in Europe's largest vertical farm in Lincolnshire.
But it is now testing how to also grow soft fruits, cut flowers and vines vertically at scale in an experimental centre in Bristol, and hopes eventually to be able to grow produce in bulk at a new site in Gloucestershire that will open this autumn.
When built, the site is expected to be the world's largest vertical farm - the growing space of which will equate to 96 tennis courts stacked in vertical layers.
The company aims to reduce the carbon footprint of food consumed in the UK, eliminate the limitations of the seasons and boost the country's food security, all while turning a profit.
In 2020, nearly half – 46 per cent – of the food consumed in the UK was imported.
"It won't be long in the future that it will become unacceptable to air-freight fresh herbs into the country," said Glyn Stephens, who was once a dairy farmer in mid-Wales before becoming the company's head of growing. "In my head it will become like smoking, it will just become socially unacceptable."
Mr Stephens, 56, said that over time he had become increasingly concerned about human impact on the planet, including climate change, and was pleased to be involved in something that he felt was doing some good.
"I'm very aware of the damage that the likes of myself have done in the countryside – not on purpose – just doing what we do," he said, giving the example of over-fertilising crops.
> >
Although the growers at Jones Food Company use fertiliser, they say they use minimal amounts compared with traditional farming because the fertiliser in the water system that is not taken up by the plants is recycled, treated and then put back into the plants.
Because vertical farming is carried out indoors – and not in the countryside – there is no risk of fertilisers running off and polluting the water streams. The company says it doesn't use pesticides and that growing food vertically uses 95 per cent less water and can be done using 100 per cent green energy.
"The food is probably much safer and cleaner than what's grown in the beautiful English countryside, which farmers – like I used to be – go and spray every two or three weeks," said Mr Stephens.
A vertical farm sees layers of plants grown on trays, stacked vertically with pipes delivering water, feed and nutrients, the company said. The temperature and humidity is controlled and light mimics the hours of sunlight. The inputs are controlled to ensure the product is uniform.
The company is experimenting with strawberries, hops, tomatoes and tree seedlings, and also has the ability to grow "fortified" food by putting extra vitamins into the water supply, but hasn't yet opted to do this commercially.
James Lloyd-Jones founded the company in 2017 in the wake of Brexit, ahead of the coronavirus pandemic and Russia's invasion of Ukraine. He said the events had confirmed the fragility of the food-supply chain, while at the same time climate change had played havoc with crop yields.
"You can run vertical farms in a clean manner using renewable energy," he said. "You shorten the amount of road miles because there's no air freight, and you can deliver nutritionally high produce within 12 hours into the supermarket supply chains and to the customer.
"It was a bit of a no-brainer."
From news to politics, travel to sport, culture to climate – The Independent has a host of free newsletters to suit your interests. To find the stories you want to read, and more, in your inbox, click here.
Reference: The Independent: Saphora Smith - 8 Jun
The 'strange' shipwreck on the Yorkshire coast only visible at low tide
Have you ever noticed a strange shipwreck off the North Yorkshire coastline and wondered what it was?
On the sands of Saltwick Bay near Whitby lie the debris of many sunken ships but, a specific old concrete shipwreck which can still be seen today at low tide has been dubbed the 'strangest' on the coast - yes, I thought concrete couldn't float either.
The MV Creteblock as it's called is believed to have sunk at Saltwick Bay in 1935.
Why make a boat that's destined to sink? The answer to that is during the war - as we know- metal and other materials were in short supply but ingenious engineers found a way to construct much needed military vessels using reinforced concrete. 
The Creteblock was built in West Sussex in 1919 and was used as a harbour tug in Teesside until about 1935, when she was taken to Whitby to be scrapped and has been left as a wreckage since.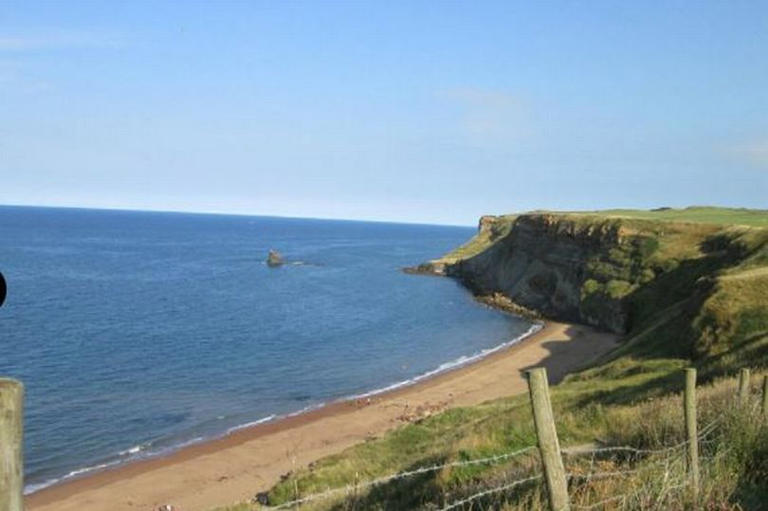 Tourists flock to the coastline every year to take a glimpse of Yorkshire's strangest shipwreck during low tide - eventually all that will be there is a lump of concrete rubble.
> >
Be careful with tide times as it is possible to get stranded. You can access the wreck by parking at Abbey Headland car park in Whitby. Follow the 199 steps up to Whitby Abbey and follow Abbey Road to the Cleveland Way signpost, follow the path between the cliffs and the camp site and you should see the shipwreck on the rocks before Saltwick Nab.
Have you been to see it? Let us know in the comments! Reference: Yorkshire Live:  Megan Banner
Kelly Joe Phelps, blues and country musician, dies aged 62
Kelly Joe Phelps, the celebrated singer and guitarist whose music traversed blues, country and jazz, has died aged 62. A post on his Facebook page said he died "quietly at home in Iowa". 
Born in Washington state, Phelps was raised in a musical family and first trained as a jazz musician, but broadened his playing after being inspired by artists such as Mississippi Fred McDowell. "I wanted to figure out a way to improvise like a jazz musician would, but at the same time play a style of music that was more closely linked to folk forms," he explained.
The definitive Pearl Jam playlist
Back in 1991, Pearl Jam released its stellar debut Ten. Decades later, the group is still going strong and remains relevant. Not just to its loyal and passionate fan base that travels the globe to catch the band live, but also a new generation of fans eager to see what all the fuss is about.
Here's our version of the ultimate Pearl Jam playlist (original material only), ordered the way it's meant to be heard. 
His debut album, Lead Me On, was released in 1994 and has endured, earning millions of streams. With spartan arrangements that put Phelps's skilful slide guitar and earnest, soulful voice to the fore, it is much admired and appears in The Penguin Guide to Blues Recordings.
He moved to the Rykodisc label for 1997's Roll Away the Stone and released nine further albums, ending with Brother Sinner and the Whale in 2012. Later in his career, Phelps suffered from a nerve disorder in his right arm.
> >
Among those paying tribute was country star Jason Isbell, who wrote: "His beautiful music was certainly an influence and he was a kind man and generous with his time." Folk-pop singer John Smith said Phelps was a "guitarist and shaman who could put a whole crowd into a trance and leave them wondering what the hell happened. Just a beautiful, magical artist."
Phelps' producer Steve Dawson described a mercurial and hugely talented musician: "I saw him go from a lap guitar-wielding bluesman to a hardcore troubadour to an avant-garde improviser to a pretty monstrous flatpicker, banjo frailer, and finally finding some peace and inspiration on bottleneck slide guitar. It was always a wild ride and he never took the easy path."
Reference: The Guardian: Ben Beaumont-Thomas - 3 Jun
At least 49 dead and more than 100 injured after huge fire causes multiple blasts at container depot
At least 49 people have died and more than 100 are injured after a huge fire swept through a container depot in Bangladesh.
The blaze triggered multiple explosions when it broke out on Saturday night in the southeastern town of Sitakunda.
Firefighters have been struggling to get the flames under control after blasts went off in a container full of chemicals.
The explosions shook the neighbourhood, shattering the windows of houses more than two miles away.
> >
At least nine firefighters are among the dead, while another 15 were being treated for burns, the fire service said.
The cause of the fire has not yet been determined and emergency services were still trying to put it out on Sunday morning.
By Sunday afternoon local time the death toll had risen to 49, according to Ekattor TV station, and the area's civil surgeon warned that the number could still rise.
Mohammed Elias appealed to all local doctors to help tackle the situation, and has also called for emergency blood donations.
Prime Minister Sheikh Hasina expressed her shock at the accident and ordered adequate arrangements for the medical treatment of the injured.
Bangladesh has a history of industrial disasters, including factories catching fire with workers trapped inside. Monitoring groups have blamed corruption and lax enforcement.
In 2012, about 117 workers died when they were trapped behind locked exits in a garment factory in Dhaka.
The country's worst industrial disaster occurred the following year, when the Rana Plaza garment factory outside Dhaka collapsed, killing more than 1,100 people.
In 2019, a blaze tore through a 400-year-old area cramped with apartments, shops and warehouses in the oldest part of Dhaka and killed at least 67 people. Another fire in Old Dhaka in a house illegally
storing chemicals killed at least 123 people in 2010.
In 2021, a fire at a food and beverage factory outside Dhaka killed at least 52 people, many of whom were trapped inside by an illegally locked door. 
Reference: Sky News: 
A tribute to John Obi Mikel, Nigeria creator turned Chelsea water carrier
In 10 years at Chelsea, John Obi Mikel scored six goals in 374 games. Reliable but rarely a regular, his highlights reel from his time at Stamford Bridge is hardly a showstopper. But it could have been so different…
It was 2005 at the FIFA World Youth Championships in the Netherlands when Mikel first truly announced himself on the European stage, arriving at his coming-of-age party already almost fully developed. 
Samson Siasia's Nigeria Under-20 side finished second at that tournament, losing to an Argentina team led by a certain Lionel Messi in the final, and Mikel was so impressive that he was awarded the Silver Ball as the tournament's second-best player. Behind Messi, of course.
He might have even pipped Messi to the Golden Ball had things gone Nigeria's way in the final, a remarkable thing to say about a solid if unspectacular defensive midfielder.
Except, back then, Mikel was anything but. Born Michael but known as Mikel after a clerical error by the Nigerian FA in the build-up to the Under-17 World Cup in 2003, he was the Flying Eagles' creative leader.
All long limbs and sprightly invention, Mikel was an attacking midfielder that led his team by example as they put opponents to the sword.
He had announced himself on the world stage and the only way was up.
Before Mikel had even had the opportunity to show off his talents at that tournament in the Netherlands, he was already at the centre of a hugely complicated and controversial transfer deal involving Chelsea, Manchester United, Lyn Oslo and a retinue of agents.
When the saga was finally resolved after a year of back and forth dealings, court filings and FIFA complaints, he joined Jose Mourinho's champions in the summer of 2006.
Change of position
With Frank Lampard at the peak of his powers and Michael Ballack joining from Bayern Munich on a free transfer in the same window, it was evident there was no place for the talented but inexperienced youngster, at least not in his preferred position further forward.
But Chelsea weren't about to leave a player they fought tooth and nail to acquire rotting on the bench, and with Claude Makelele getting on, Mourinho converted Mikel into a defensive midfielder.
The reasoning was clear enough: Mikel was tall and strong, and with his experience as an attacking midfielder, he had an excellent range of passing that could enable him start attacks after disrupting play.
In theory, it could have been a masterstroke by Mourinho; after all, a leggy defensive midfielder with an eye for a pass was Pep Guardiola's idea for that position as he went about trying to revolutionise the game with Sergio Busquets just a few years later.
In practice, however, Mikel become less ambitious with his passing the more he grew into the position. From his exalted position as the tyro in his days of youth football and in Norway, he became the water carrier.
To make matters worse, he was hardly guaranteed a place even in the unglamorous role, starting only 10 Premier League games in his first season at Stamford Bridge.
He upped that to 21 the following season and then 33 in 2008-09, but it was only ever Guus Hiddink that seemed to truly appreciate him, even bringing the Nigerian back from the cold in his second spell as caretaker after he'd been frozen out during the ruinous Mourinho season.
"If the team is not willing to defend well, or hasn't got the right balance, then you'll concede a lot of goals," Hiddink said that season. "I think John Obi can be one of the key figures in bringing back that balance.
"On this podium very talented players can explore their qualities. He reads the game very well, he knows where the strength of the opponent is and knows how to combat that.
"He has very good sense, he doesn't do it in a brutal way, he's very elegant. Someone who can defend so smoothly is very beautiful."
International expectation
Nigerian football is always on the lookout for its next hero, a player to be the leader of its national team. With the Super Eagles missing out on qualification for the 2006 World Cup and performing below par in the 2008 Africa Cup of Nations, the burden of expectation became even heavier on Mikel's slender shoulders.
But hopes he could replicate the form that saw him beloved by his countrymen and coveted by two of England's biggest clubs were misplaced; Mikel was no longer the creative force he once was.
This didn't seem to matter to manager after manager in charge of Nigeria, however, as all of them tried and ultimately failed to build a team around him.
Mikel was effectively playing in different positions for club and country, and anyone could see it wouldn't work. From being adored and feted by Nigerians, first there was animosity over concerns he wasn't pulling his weight and then a general indifference. No one seemed to care about what he did anymore.
More Nigeria
A tribute to the amazing Jay-Jay Okocha and that great Bolton team
A tribute to Yakubu, the one-man Premier League wrecking ball
Why a moment of madness shouldn't define Peter Odemwingie's career
The AFCON triumph in 2013 had more to do with others within the team – Emmanuel Emenike, Victor Moses and Sunday Mba, for example – than it did Mikel, but when he left Chelsea's pre-season camp to join up with Nigeria's Olympic football team in Atlanta in 2016, things changed.
Named Super Eagles captain by interim manager Siasia, he was outstanding on and off the pitch during Nigeria's march to Olympic bronze in Rio, and having quietly become Chelsea's second longest-serving player behind John Terry, he effectively ended his Blues career by making that country over club decision.
After refusing Nigeria's call for the same competition in 2008, he was making up for lost time.
Whatever his motivation, Mikel made his presence felt, and in Atlanta and Brazil he had an enormous influence.
Within days of arriving in Atlanta for their training camp, the team faced the threat of ejection from their hotel over unpaid expenses. When Sports Minister Solomon Dalung told the press he was unaware of their plight, effectively leaving the squad to their own devices, Mikel stepped in to settle the costs out of his own pocket.
"Mikel made sure the money was paid and he even stepped in numerous times with his own money to fund the team," Nigeria centre-back William Troost-Ekong told me in an interview afterwards. It was to the tune of £30,000.
With Mikel there still remains a pervading sense of a talent unfulfilled, a career ambling towards its end without exploring the outer edges of his undoubted abilities. But there's a counter argument to that, one of a career making the most of a less than ideal situation he was thrust into.
He will never inspire poetry in the way Kanu Nwankwo and Jay-Jay Okocha may, but Mikel will still take his place in the pantheon of Nigerian greats when he calls time on his career.
By Aanu Adeoye
This article was originally published in September 2017. Reference: Planet Football: Aanu Adeoye 
Login